Printing Times and Delivery
Printing Lead Time and Delivery for Corporate Golf Gifts
Standard printed lead time for all of our corporate gifts is 5-7 working days, we also offer an express option which takes 2-3 working days.
N.B Delivery times need to be added to your printing lead time for a estimated delivery date. When placing your order you will see an estimated delivery date at the checkout page, this is based on printing lead times plus delivery selected. This is an estimated date as with items which require a visual the printing lead times come into effect once approval has been received.
Dispatched within times can be found on each product and you will find printing lead times and express options within the customiser for each product.
Step 1: Select your printing times using the customiser (see below)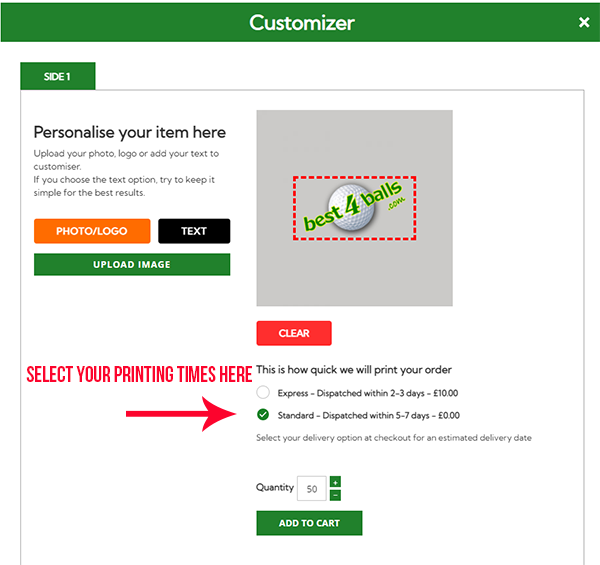 Printing lead times automatically default to the standard 5-7 day option. For a quicker service select the 2-3 day Express print.
Step 2: Your delivery options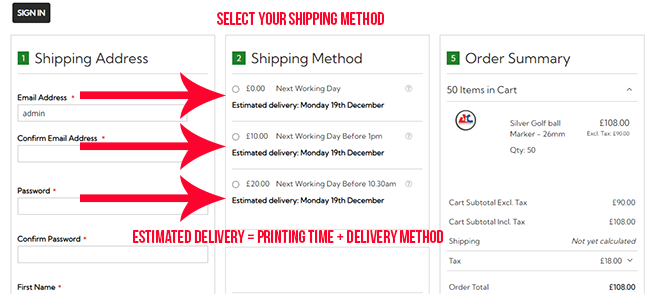 Lead times are all about how quickly it takes us to print your order, you will also need to select a delivery method at the checkout (see above). The estimated delivery date which you see at the checkout page is calculated by adding the longest printing time and the longest delivery time.
If you need your order quicker than the estimated delivery date in the checkout go back to the shopping cart page where you will see the printing lead times selected, from here you can upgrade if needed. When you click to proceed to checkout you should see an update delviery date.
If you have already selected an express print you can always drop us an email and see if we are able to print quicker for you. As we do all our printing in-house sometimes it is possible to be even quicker than the express timeframe.
For orders which require a visual the delivery date is a rough estimate as printing lead times start once you have approved the proof which we email to you.
The estimated delivery date shown at the checkout will also be on your order confirmation email.
For further information or to discuss your requirements you can email us at logosales@best4balls.com or call us on 01491 526107.
Show more