Logo Golf Balls
We offer an exceptional service and print quality for all of our logo golf balls, with superfast lead times from only 2-3 days, our standard print is just 7-10 days. Our logo golf ball service offers the very best quality of print and the largest print area (contact us for more details), and we provide full detailed visual proofs before going to print.
Our logo golf balls are printed spot colours and the full process is managed and printed here 'in house'.
We have over 30 years experience in printing golf balls and many other logo items, and our team includes PGA Professionals, who have expert knowledge, if you need help choosing your logo golf balls.
If you require less than 12 dozen golf balls please try our personalised golf balls service (minimum order 1 dozen). This service is ideal for small orders or complicated logos or photos, as we can print full colour onto any of our logo golf balls.
Our logo golf balls are usually packed in sleeves of three within the dozen boxes, and you can also mix the balls to include various models of logo balls.
If you have any queries about our logo golf balls service, please contact our corporate sales team or email us from the contact page.
Show more
We carry a huge range of logo printed golf balls, and the minimum order is only 12 dozen golf balls. Most of our logo golf balls are sold in 12 ball boxes, with four sleeves of sleeves inside. Our non-branded golf balls have no manufacturers marks, and we can also offer bespoke logo packaging for these balls.
Our logo golf balls service offers the largest print area, which is usually between 18mm and 26mm. We can sometimes print larger, and the maximum size that we have printed is approximately 35mm (special one-off order). If we print our logo golf balls larger than the recommended guidelines, there is a risk that the print will warp.
All our logo golf balls are printed here 'in house' to ensure that we offer the fastest and best possible service. Our professional staff not only process orders, but we also have a dedicated team that makes all the logo balls artwork, including proofs, artwork redraws and also the printing plates for the logo golf balls.

We have the largest selection of logo golf balls online, from all the major manufactuers including Titleist, Srixon, Callaway TaylorMade, Wilson and much more. Unlike other retailers you can choose any of our golf balls and mix them within different brands if you wish, so that you can give various golf balls to different types of golfers.
Logo golf balls are the perfect promotional items, and are a must for all corporate golf days.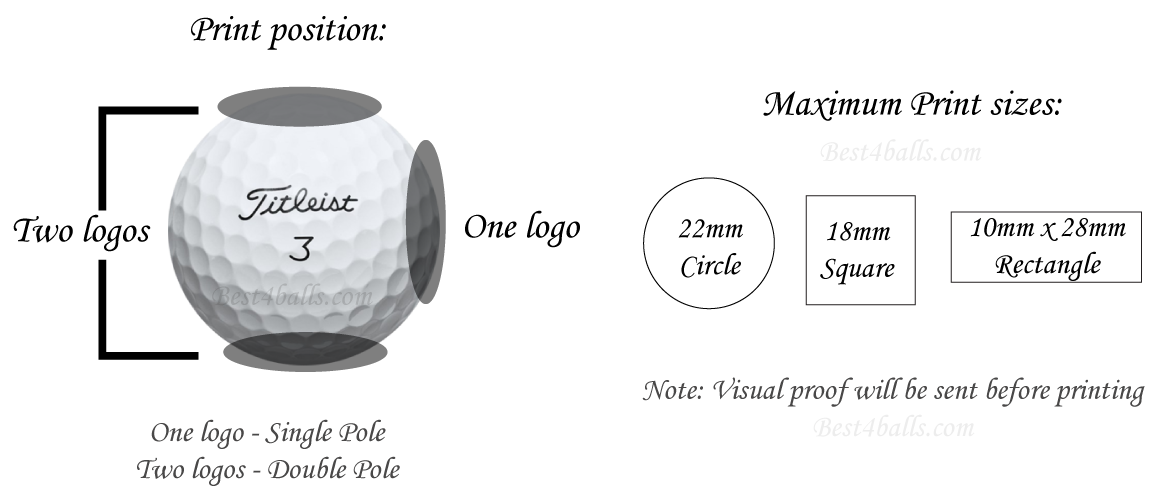 We pride ourselves on our superfast turnaround times for all of our logo and personalised golf ball orders. We also guarantee that order arrive within the specified lead times to give you peace of mind when ordering!
Standard Printing: For logo golf ball orders the average turnaround time is only 7-10 working days from artwork approval.
Express Printing: If you select the fast lead times we will ship within 5 days and express lead times we guarantee to ship within 2-3 working days from artwork approval (express fee applies).

Please note that our lead times are from visual approval, and we will send a proof by email within a few hours of placing your logo golf ball order. Double pole orders (printing both sides) will take an extra day to ship because of the time it takes to print and cure the extra logo.
To save time it is important that you upload the correct artwork at time of ordering. We ideally require vector format ideally in eps, ai or eps format.
If you only need a small quantity of logo golf balls (less than 12 dozen) please visit our personalised golf balls section of the website (minimum 1 dozen).
Please email contact@best4balls.com or call us on 01491 526107 for current logo golf ball timings, pricing and availability


Technical Information For Logo Golf Balls
Print area shown above
* Permanent spot colour printing - up to 5 colours.
* Visual proof will be sent by email before printing which includes size and pantone colours.
* Orders are shipped within 5 days of visual approval on a next day courier service.
* Fast 5 day service and Express 2-3 day service is available for urgent orders (extra charges may apply)
Logo golf balls are printing using our professional spot colour printing machines and this service is offered for larger orders of 12 dozen or more. The process usually starts with a pdf visual proof of the golf balls , then plates are made for each colour within the logo and the plates are then transferred to the machines ready for production. Our technical logo team make the inks for the logo 'by eye' rather than using machines, to guarantee the correct pantone match for the colours within the logo. Once printed our logo golf balls are then dried in a heat room overnight to ensure that the logo is cured and ready for play.
A really popular way of promoting your brand is the use of golf merchandise, especially logo golf balls. More and more business is conducted on the golf course and what better way to get your brand out there than on personalised golf balls or logo golf balls. Not only are they practical but with our quality printing service they will serve as a reminder of your brand every time the recipient plays with the golf ball.
We can add your company logo to one side and either a catchy slogan, telephone number or logo to the other side . The logo service offers the higher quality printing and longer lasting logo but the personalised service is ideal for smaller orders. There are no setup costs and delivery is free in the UK for any orders over 6 dozen. For more information on logo golf balls please give us a call or email us if you have any queries.

EU Business Customers:
VAT will be deducted at checkout and you will be liable for import taxes and charges. The local delivery agent will be in contact to collect these fees directly and we have to provide a valid phone number and email address for contact to be made. An EORI and VAT number will also have to be provided to us for deliveries made to a business address outside of the UK, this is an essential part when we produces export paperwork. Please note delivery made be delayed if correct details aren't provided or if local taxes aren't promptly paid.
Best4Balls.com are the leading supplier of promotional golf items throughout Europe, and our printed logo golf balls are naturally our best-selling promotional item.
We have many years of experience printing golf balls and the quality and long lasting print is guaranteed. We provide all of our customers with detailed visual proofs of their logo golf balls before going to print, which includes the pantone colours for the logo and size of the print area.
Our logo golf ball service offers the largest print area (up to 28mm) and a long lasting logo. Logos can be printed in a number of colours including white, silver and gold which give outstanding results on our darker coloured golf balls e.g. black, blue and red.
From the moment you place your logo golf ball order, our corporate sales team will handle your order professionally and efficiently. If you are wondering which logo golf balls to choose, you can speak to one of our resident PGA professionals for free advice. Unlike other printers, we pride ourselves on the simplicity of our service. The prices of our logo golf balls are fully inclusive of all costs. At Best4Balls, you will never hear us speak of logo set-up costs, hidden fees, or printing charges by colour.
Our logo golf balls are usually packaged in sleeves of three within the dozen boxes making ideal society and company giveaways!
If you require bespoke printed packaging we have many different options including tubes, boxes, gift sets and also printed three ball sleeves. Our logo gift sets and tubes can be made totally bespoke to include logo golf balls, ball markers, pitchforks, hatclips, scorecard holders....and much more!
Printed packaging is a popular way to promote your business. Our gift sets and luxury items that are ideal keepsakes so it's worthwhile going that extra distance to promote your golf day or society.
Bespoke printed packaging is also available from our golf ball manufacturers including Titleist, Callaway, Srixon and Wilson. Examples of all our packaging can be found on our logo golf balls packaging page.
For more details on packaging please contact our corporate logo team or email for a quotation:
Contact Us