Printing Times & Delivery
Printing Times and Delivery for Personalised Golf Gifts
How long will it take to print my order?
Standard printing times - 5-7 days
Express  - Usually shipped within 2-3 days
Note: These time are working days amd delivery times needed to be added to the above.

Printing options (as shown below) are how long it takes for us to print your order. We print in-house to ensure that our printing time are the fastest in the industry.
If you need your order in a hurry we suggest that ypu choose our Express print (additional cost).
Step 1: Select your printing times on the customiser (see below)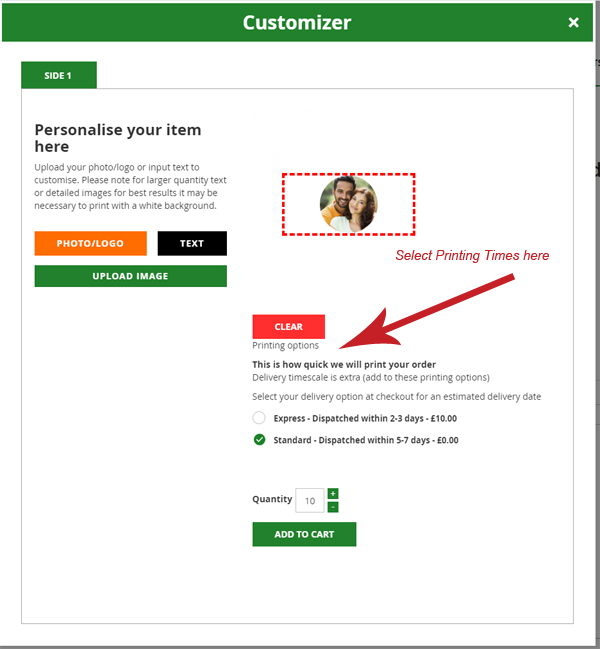 To order, select the item you require,then uploaded the photo, logo or text for printing.
You will see a printing options section above the quantity and add to cart buttons. This will automatically default to the standard 5-7 day lead times, the Express option can be selected here and it will tell you the additional cost.
Step 2: Your delivery options


Printing times are all about how long it take us to print your order, you will also need to select your delivery method at the checkout (see above). The time it takes for us to print plus the time it takes for delivery is the estimated time for you to receive your order. For example, you select the standard 5-7 working days for printing and 2-3 day for delivery and your order will be with you in a maximum of 10 working days. When you select your delivery method in the checkout you will see an estimated date for your delivery this is based on these two time scales.
The estimated delivery date in the checkout is later than I wanted, how do I change it?

Click on Shopping Cart in the top right hand corner of your screen then click the black Shopping Cart button. This will take you back to the shopping cart where you will see the balls you selected and the personalisation, between these are the printing lead times, your selected method will be highlighted. Change to your desired lead time, the total will change to add on the extra charge then click Proceed to Checkout. When you select a delivery method the estimated delivery day will be updated.
Frequently asked questions:
Will you contact me to let me know when my order will arrive?

If you have selected the 2-3 day delivery Royal Mail will email you on the morning on delivery, this will contain a tracking link and estimated delivery window. As our parcels do not require a signature it may be left in a safe place on your property or with a neighbour, if this does happen a 'Something for You' card will be put through your door.
Orders dispatched on all of the next day services will receive an email from DPD once the parcel has left our warehouse and a further email on the morning of delivery around 11am with your one-hour delivery window (although this is not always the case with the before 10:30am or before 12pm deliveries). Within this email you will have the option to leave in a safe place or deliver to a neighbour. The DPD app also contains useful functions to track your driver and also receive a 'You're Next' notification.
You may need to check your junk folder if you haven't received your an email from either provider on your expected morning of delivery.
I selected next-day delivery on my personalised order but didn't receive my balls the day after I ordered them?
See above, 'How long will it take to print my order', and refer back to the lead time selected which will show on your order confirmation. Standard printing lead times are 2-3 working days for personalised golf balls. 
It's been over the stated time and I haven't received my order or my tracking link says the parcel has been delivered but I don't have it?

Firstly check around your property and any safe places to see if your parcel has been left, also check with your neighbours to see if it has been taken in. We sometimes see this happen where a 'Something for You' card hasn't been left. If you don't manage to locate the parcel drop us and email with your order number and the details and we will raise this with the delivery provider, they do normally take 48 hours (during the week) to come back with initial feedback so bare with us while this happens. If the parcel is deemed to be lost we will re-print and dispatch as a priority.
Further Information
To discuss your requirements further or for more information please call us on: 01491 526107.
Or email us at: contact@best4balls.com
Show more