Duo Optix Yellow - Printed
duooptixyellowprinted
18.950000
https://www.best4balls.com/logo-golf-balls/wilson/duo-optix-yellow-printed
£18.95
per box
Quantity

Cost

VAT
>>>: Minimum Order 12 Boxes (144 Balls)
Colour: Yellow
Handicap: Mid
Dispatched in 2-10 working days from approval of your visual
Frequently bought together
Wilson Duo Optix Yellow Logo Golf Balls 
The Wilson Duo Optix Yellow Golf Balls, designed to provide maximum ball flight and superior play-ability.
Minimum order: 12 dozen (144 balls). Each box contains 4 sleeves of three. Price excludes VAT:

 -  A visual proof will be sent before printing
 -  Fast delivery - Orders will be shipped within 2-10 days
 -  High quality, long lasting logo process
 -  FREE UK shipping

For orders over 40 dozen please contact us for a quotation
How to add your logo or text to your logo golf balls:
Click the Red 'Add Logo' button above and select 'Photo/Logo' or 'Text' option. An online visual will appear on the golf ball before you add to cart A visual proof will be sent by email before printing. Click 'Continue to side two' if you require printing on both sides (extra charge).
Lead times:
Standard lead times are 7-10 days but we do offer an express 2-3 day, fast and 5 day service for urgent orders. 
Please allow an extra day for printing double pole orders (both sides). Select the 'Printing Lead Times' on the customiser when you have uploaded your logo or text.
Artwork required:
Please upload your artwork as vector artwork, which is usually an EPS or Ai file. You will receive a visual proof usually within a few hours, detailing the print area and pantone colours. If you do not have the correct file we can redraw the logo for you (fee may apply).
Print size for Wilson Duo Optix Yellow golf balls:
The maximum print area is approximately 27mm for rectangular logos or text. Circular and square logo are usually printed between 18 and 22mm wide. Our logo service offers the most durable printing which will not wear off during play.
Colours:
We can print a maximum of 4-5 spot colours (pantone specific). If you have a photo or a logo with many colours we recommend trying our personalised service.

Urgent orders:
If you have a very urgent order please email us your requirements to contact@best4balls.comor call 01491 526107. If you have problems uploading your artwork please email it to contact@best4balls.com with your order number after processing.  We hope you will be happy with our logo service on your Wilson DX2 Soft Optix Yellow golf balls.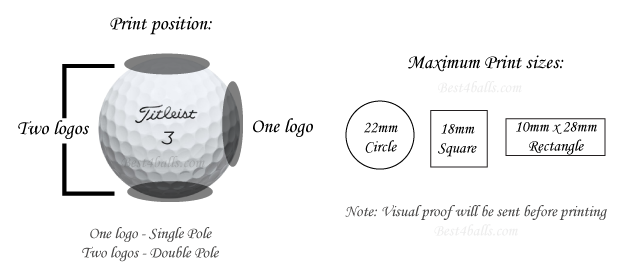 Wilson DX2 Soft Optix Yellow Logo or Personalised Golf Balls
Logo Golf Balls
The
premium logo
service is available for larger orders of 12 dozen (144 balls ) or more and offers permanent printing on a larger print area.
The logo service offers a maximum print area of up to 26mm and most orders are shipped within 5 days of receiving visual approval. We also offer an express logo service for urgent orders and can usually print and ship within 2 days of receiving the visual approval.
For more information on the print areas and special offers please visit our logo golf balls homepage.
Personalised Golf Balls
The
personalised golf ball service
is ideal for smaller orders of 1-12 dozen golf balls.
The cost is only £6 per box including vat (12 or 15 balls) for printing one side and £9 for both sides (double pole printing).
You can add text, photo or logo and the price includes an unlimited amount of colours and the print area is approximately 20mm. The printing is fairly durable but it is not permanent.
To order please select the golf balls that you require and click on the add 'text or photo/logo' Personalised golf balls are printed in only
3-5 working days
but we may be able to get them out sooner if your order is very urgent.
button which will allow you to add the text or upload your photo/logo online.
Please click here for more details about our
Wilson Personalised Golf Balls
Packaging
Our Wilson logo golf balls are packaged in sleeves of three within the dozen boxes making ideal society and company giveaways!
Bespoke printed packaging is available for larger orders of 250 dozen (3000 golf balls) or more. For more details on personalised boxes please contact us.
Technical Information

Permanent pad printing up to 5 colours.
Visual proof provided before printing
Fast lead times and delivery! Shipped within 5 days of visual proof approval
Express logo service available for urgent orders! Shipped within 2 days of visual approval

EU Business Customers:
VAT will be deducted at checkout (VAT number required on account page)